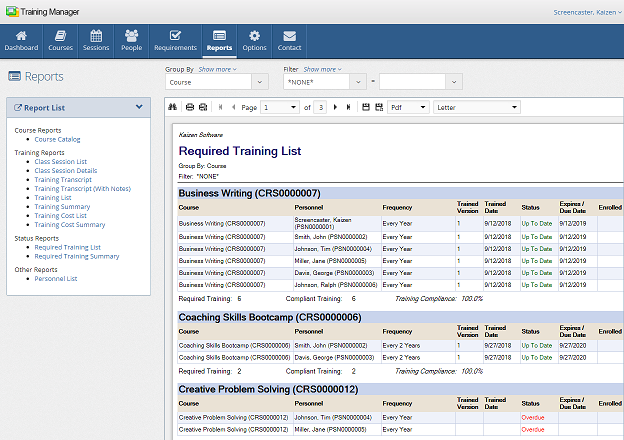 Training Status Reports
April 8, 2019
Training Manager Web Edition includes two Status Report templates:
Required Training List
Required Training Summary
These reports can be grouped and filtered to accomplish different tasks. For example:
Group By: Supervisor
Group the report by Supervisor for a report which breaks down the status report by Supervisor. This allows you to get a list of the training status for all of the supervisor's direct reports with full detail (List) so they can follow up with them, or as a Summary to compare the percent training compliance for all Supervisors across the organization.
Group By: Course
When preparing to schedule a training course, you may want to see a full list showing the training status for the course. Group the Required Training List report by Course to get the full details, or to prioritize which Courses should be scheduled, use the Required Training Summary report and identify the Courses which have the most out of compliance training.
Group By: Student
Need to provide all the employees with a report showing the current status of their training? Group the report by Student.
You can also group the reports by: Category, Job Role, Personnel Location, Personnel Group, Shift, or Status.
In addition, you can use a filter to limit the data included on the report. For example:
Filter: Course
Filter the reports by Course to include the data for a specific course only.
Filter: Expires/Due Date
Need a list of training that is about to expire? Filter the Required Training List report by the "Expires/Due Date" to include training that is either Overdue or will expire within the next 30, 60, or 90 days.
As with the Group By options, you can also filter by: Category, Student, Personnel Location, Personnel Group, Shift, Supervisor, or Status