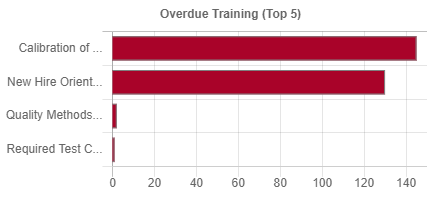 Overdue Training Notification
November 30, 2022
Training Manager Web Edition has been updated to allow administrators to send an Overdue Training notification to personnel in the Top 5 Overdue Training List.
The Company Dashboard has always provided a Training Requirement Summary box which allows administrators to see a quick view of the overall training status for the company, as well as a chart showing the Top 5 Overdue training courses. Clicking a bar on the chart displays a list of the personnel who require training.
With this update, administrators can send an Overdue Notification to the overdue personnel and their supervisors by clicking the "Create Overdue Notification" button which now appears on the list of Overdue Personnel.